Symposium Mechanical Surface Treatment 2019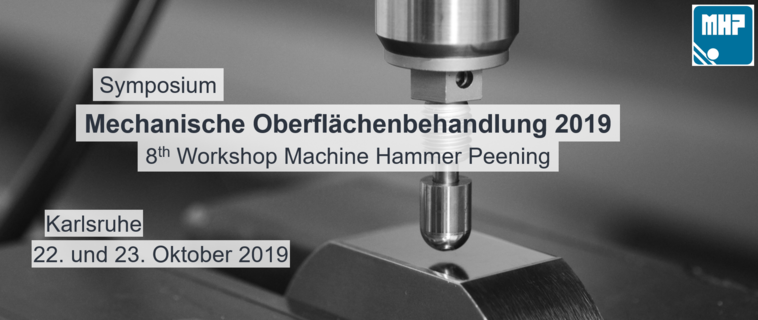 The wbk Institute of Production Science at the Karlsruhe Institute of Technology is hosting the 8th Workshop of Machine Hammer Peening within the scope of the symposium on Mechanical Surface Treatment. The conference is intended to provide researchers and participants from industry a joint communication platform and give information on current topics relating to mechanical surface treatment. With the support of experts from industry and research the conference program includes contributions on innovations in process development in industry and science and gives an insight into innovative application examples.
Dates:
15th August 2019

Abstract submission

1st September 2019

Submission of the presentation

4th October 2019

Closing date for registration

22nd/23rd October 2019

Symposium on Mechanical Surface Treatment:

8th Workshop Machine Hammer Peening

with

Hands-on workshop "Digitalised production and megatrend industry 4.0" and networking including dinner
Call For Presentations:
The conference relies on your active support both as a participant and as a speaker. Take the opportunity to present your latest research results, technology developments or application successes to a selected audience of experts. Contributions from industry and universities are equally welcome. Please register your presentation until 15.08.2019 using the registration form.
Presentation language:
With regard to our participants: We hereby kindly ask all speakers to prepare their slides in English. The community in mechanical surface treatment is growing around the globe. However, as our main audience comes from Germany and Austria, the presentations can be held in either German or English.
Participation and registration:
Participation at the event is only possible after a binding registration. After reception of your registration you will receive an email confirmation. The number of participants is limited and registrations will be handled in the order in which they are received. The participation fee is € 125,- per person and includes drinks during breaks, lunch and the evening event on 22 October 2019
Audience:
The Workshop is addressed to manufacturers, developers, users and researchers in relation to the respective technology of university or industrial institutions.
Speakers:
Speakers will be scientists of the relevant university institutions and experts from industry in the area of incremental surface hardening, tool and mould production or forming technology.
Presentations:
The duration of the presentation will be 30 minutes (25 min presentation + 5 min discussion). The language of presentation is German. The presentation slides should be written in English.
22.10.2019
| | | |
| --- | --- | --- |
| 14:00 | | Registrierung und Get-together |
| 14:40 | Herr Prof. Schulze | Begrüßung |
| 14:50 | Herr Dr.-Ing. Maiß / Herr Ostertag | Prozesssicherheit bei der mechanischen Oberflächenbearbeitung |
| 15:20 | Herr Gkatzogiannis | FE Simulation of the HFMI Treatment –Previousand Upcoming Results |
| 15:50 | Herr Klumpp | Influence of mechanical surface treatments on propagation and opening behavior of physically short cracks in Inconel 718 |
| 16:10 | | Kaffee- und Kommunikationspause |
| | | |
| --- | --- | --- |
| 16:40 | Herr Polanetzki | ControlledPneumaticNeedlePeening–New Peening Technology for Aerospace Applications |
| 17:10 | Herr Uhlmann | Experimental analysis of the surface integrity of stainless steel modified by roboter-based machine hammer peening |
| 17:40 | Herr Segebade | Analyses of technical and true overlap in hammer peening operations |
| 18:10 | | Praxisworkshop "Digitalisierte Produktion und Megatrend Industrie 4.0 und Veranstaltung zum Networking inkl. Abendessen |
23.10.2019
| | | |
| --- | --- | --- |
| 09:00 | Herr Seitz | Influence of the process parameters on the penetration behaviourof ceramic particles inComposite Peening |
| 09:30 | Herr Schubnell | Residual stress relaxation in HFMI-treated fillet welds after single overload peaks |
| 10:00 | Herr Dr.-Ing. Meyer | Interne Verfestigungsdomänen durch mechanische Oberflächenbehandlung während der additiven Fertigung |
| 10:30 | | Kaffee- und Kommunikationspause |
| | | |
| --- | --- | --- |
| 10:45 | Herr Prießnitz | Influence of MHP on the material structure of CrNi steels |
| 11:15 | Herr Sticht | Influence of the hammer head geometry when machining higher strength materials by MHP |
| 11:45 | Herr Neuenfeldt | Optimization of the stream finishing process for mechanical surface treatment by numerical and experimental process analysis |
| 12:15 | | Mittagessen |
| 13:00 | Herr Prof. Schulze | Gemeinsame Diskussion und Abschluss |
Selection of hotels in Karlsruhe:
sevenDays Hotel BoardingsHouse
How to find the conference:
Arrival by car:
Take the A5 motorway exit "Karlsruhe-Durlach (44)" in the direction of Karlsruhe onto the Durlacher Allee in the direction of KA-Zentrum. After about 2.4 km turn right north at the "Durlacher Tor" crossroad and follow the sign "KIT-Campus Süd (do not drive through the main gate of the KIT). Drive straight for about 700 m and turn right at the traffic light before a pedestrian bridge onto the street "Am Fasangarten". After 100 m turn left into car park "Fasanengarten". Signs will you lead to event location.
Adress:
Parkhaus Fasanengarten
Am Fasanengarten
76131 Karlsruhe
Arrival by train:
Take tram line 2 or S4 from Karlsruhe main station to the tram stop "Durlacher Tor / KIT Campus Süd". Then take tram line 4 to "Karl-Wilhelm-Platz". You have to walk now about 7 to 12 minutes to the above mentioned address.