KIT has decided to discontinue teaching and examination operations from March 17 to April 19, 2020.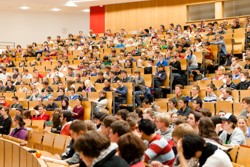 Education belongs to our major responsibilities at the institute. The spectrum of educational opportunities touches nearly every possible field within production technology from development and research, to manufacturing and quality assurance, right up to planning entire factories.
Our course of lectures provides our students with the necessary knowledge that is essential for their future career as an engineer. Through our intense contact with our industrial partners we are able to enrich our lectures by using current applications and trends within production technology. In addition to the traineeships accompanying the lectures, thesis or master´s dissertations and the chance to work with us at the institute, we give our students the opportunity to improve and develop their knowledge by means of practical experience.