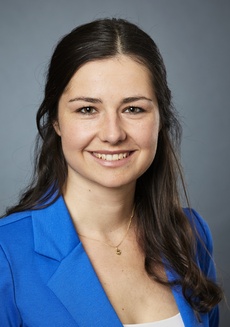 Patrizia Konstanze Gartner, M.Sc.
76131 Karlsruhe
Kaiserstraße 12
Gartner Patrizia Konstanze, M.Sc.
Area of Research:
Biologicalisation of manufacturing
Bioinspired and biointelligent production systems
Sustainable production
Additive Manufacturing
Track & Trace
General Tasks:
Global Learning Factory Lean Management and Industry 4.0
Lecture Global Production Engineering (Carl-Benz School)
Lecture Production Engineering (Hector School)
Lecture ISS
Curriculum Vitae:
seit 11/2019

Research Assistant at the Institute of Production Science (wbk) at the Karlsruhe Institute of Technology (KIT)

06/2018-03/2019

Master Thesis at BioNTech, Mainz

Establishing a process for a new immunotherapeutical cancer treatment

11/2017-06/2018

Student Assistant at GoSilico, Karlsruhe

Establishing a wiki for chromatography simulation program ChromX

10/2016-10/2019

Studies of Bioengineering at KIT

06/2016-10/2016

Internship at Novo Nordisk, Copenhagen

Downstream Processing late stage development of monoclonal antibodies

10/2012-05/2016

Studies of Chemical and Process Engineering at KIT

Besides 2017-2019

Research Assistant at MAB (Prof Dr. Jürgen Hubbuch, Bioprocess technology) and IFG (Prof. Dr. Schwartz, Microbiology)
Publications
[ 1 ]
Benfer, M.; Gartner, P.; Treber, S.; Kuhnle, A.; Häfner, B. & Lanza, G. (2020), "Implementierung von unternehmensübergreifender Traceability", ZWF Zeitschrift für wirtschaftlichen Fabrikbetrieb, vol. 5, pp. 304-308. 10.3139/104.112284


Abstract

Die Nachverfolgbarkeit (engl. traceability) von Produkten entlang ihres Lebenszyklus ist eine Grundvoraussetzung für zahlreiche Anwendungsfelder: der Ermöglichung von Kreislaufwirtschaftsprozessen, dem Schutz vor Produktpiraterie und der zielgerichteten Qualitätssicherung. Jedoch existieren über die gesetzlich vorgeschriebenen Standards hinaus wenig umfassende Lösungen, um Produkte unternehmensübergreifend nachzuverfolgen. Dieser Beitrag zeigt ein Konzept zur strukturierten Konzeption, Implementierung und Bewertung solcher Traceability-Systeme.



[ 2 ]
Gartner, P. & Fischmann, P. (2021), "Hybrid-Additive Prozesskette Für patientennahe Knieimplantate".


Abstract

Individualisierte Implantate erweisen sich als die zukünftige Art, dem Patientenwohl in idealer Weise zu begegnen. Gleichzeitig muss eine wirtschaftliche Produktion gewährleistet sein, um die Kosten tragbar zu halten. Ziel des Projektes MeSATech ist es, diese Ambiguität zu vereinen, indem ein hybrides Fertigungsverfahren zur Produktion von Implantaten Einsatz findet. Hybrid-Additiv meint die Kombination eines konventionell in Serie gefertigten Grundkörpers mit einem additiven, individualisierten Aufbau. Hierdurch ist eine individualisierte Produktion bei reduzierten Kosten möglich. Am Beispiel des Knieimplantats werden die fertigungstechnische Machbarkeit, eine Kostenanalyse und die Übertragbarkeit auf andere Implantate untersucht, um das Potential der hybriden Bauweise in der Medizintechnik aufzuzeigen. Fertigungsseitig sind folgende Herausforderungen zu lösen: Aufgrund der verfahrensbedingten Einschränkungen der Laser-Powder-Bed-Fusion (LPBF) sowie der notwendigen Positionsgenauigkeit der einzelnen Körper zueinander, bedarf es bei der hybriden Fertigung eines innovativen Einspannkonzeptes. Zudem bilden sich aufgrund unterschiedlicher Temperaturgradienten verfahrensabhängig unterschiedliche Gefügearten in dem aus Ti6Al4V gefertigten Bauteil aus. Dem vorwiegend globularen Gefüge des konventionellen Grundkörpers steht ein lamellares Gefüge im additiven Aufbau gegenüber, das Gefüge der Zwischenschicht ist martensitisch. Da im LPBF-Verfahren eine spanende Nachbearbeitung nötig ist, wird nicht nur die Verbindung der einzelnen Gefüge sondern auch der Einfluss der Gefügearten auf die Zerspanung nach einer Wärmebehandlung untersucht. Die Bewertung erfolgt einerseits anhand der Prozesskosten und -zeiten in Abhängigkeit der Stückzahl. Es werden die konventionelle Fertigung, die rein additive und die hybride Prozesskette analysiert und vergleichend gegenübergestellt. Die eigentlichen Vorteile, die sich für die Patienten in Form von Passgenauigkeit und einhergehender Schmerzreduktion, verbesserter Osseointegration und kürzeren Rehazeiten ergeben, werden qualitativ zusätzlich betrachtet. Um die Übertragbarkeit auf andere Implantate und einhergehende Kosten und Zeiten vorherzusagen, wird ein KI-basiertes Technologieplanungstool aufgebaut, in das ein künstlich neuronales Netz zur Abschätzung der additiven Kosten integriert ist.



[ 3 ]
Gartner, P.; Benfer, M.; Kuhnle, A. & Lanza, G. (2021), "Potentials of Traceability Systems - a Cross-Industry Perspective". Elsevier, 10.1016/j.procir.2021.11.166


Abstract

Recently, traceability systems have become more common, but their prevalence and design vary significantly depending on the industry. Different law and customer-based requirements for traceability systems have led to diverse standards. This contribution offers a framework to compare the state of traceability systems in different industries. A comparison of industry characteristics, motivations for traceability system implementation, common data management, and identification systems are offered. Upon that analysis, the potential of cross-industry traceability systems and approaches is identified. This extended usage of traceability systems supports the quality assurance, process management and counterfeit protection and thus expands customer value.



[ 4 ]
Gartner, P.; Jacob, A.; Akay, H.; Löffler, J.; Gammack, J.; Lanza, G. & Kim, S. (2021), "Manufacturing Genome: A Foundation for Symbiotic, Highly Iterative Product and Production Adaptations". Springer, pp. 36-46. 10.1007/978-3-030-90700-6_3


Abstract

Increasingly shortening product life cycles, regional market challenges and unforeseeable global events require highly iterative product and production adaptions. For faster adaptation, it is necessary to have a systematic understanding of the relationships between product design and production planning. A unified model and data structure are fundamental. Basic data must be extracted from both domains and integrated for consistent product-production co-design. For this purpose, we use a biological analogy, the genome-proteome phenomenon, to model the interdependencies of product (customer needs, functional requirements, design parameters) and production (technologies capabilities, machine information, process chain alternatives). From the genome, which represents the totality of available data of product and production, we contextualize the proteome, which represents an instance of a concrete product design and the corresponding production configuration. Thereby, one gene represents one incremental information set consisting of all above mentioned product and production information for a specific product function. For each of the mentioned information domains (e.g. product requirements) within a gene, a methodology exists (e.g. NLP) to model the interlinkage to the adjacent information domain (e.g. product function). Utilizing the interdependencies and heredity of product design and production planning enables quick analysis of adaptation-induced impact which will provide enhanced competitiveness in a volatile world.