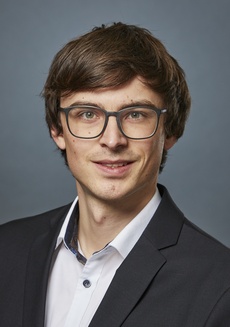 Florian Denk, M.Sc.
Research Associate

department:

Machines, Equipment and Process Automation

office hours:

to be agreed

room:

022, Geb. 70.16

phone:

+49 1523 9502623

florian denk∂ kit edu
76131 Karlsruhe
Kaiserstraße 12
Florian Denk, M.Sc.
Area of Research:
Battery cell production
Process Automation
Projects:
ReFlexBat - Adjustable coating unit for flexible coating of battery electrode
Methodology for increasing the homogeneity of long fibre preforms produced by the fibre injection moulding process
Test benches:
Curriculum Vitae:
| | |
| --- | --- |
| since 09/2020 | Research Associate at the Institute of Production Science (wbk) at Karlsruhe Institute of Technology (KIT) |
| 04/2013-03/2020 | Study of Mechanical Engineering at Karlsruhe Institute of Technology (KIT) |
Publications
Entwicklung einer autonomen Elektrodenbeschichtung = Development of an Autonomous Electrode Coating
Denk, F.; Hoffmann, A.; Höger, K.; Pfrommer, J.; Poyer, M.; Scharfer, P.; Spiegel, S.; Fleischer, J.; Lanza, G.; Schabel, W.
2022. Zeitschrift Kunststofftechnik/Journal of Plastics Technology, 117 (10), 673–676.
doi:10.1515/zwf-2022-1128
Fabrication of composite truss structures by combination of robotic filament winding and 3D printed adhesive elements
Denk, F.; Redmann, A.; Nieschlag, J.; Dackweiler, M.; Coutandin, S.; Miller, D.; Mecham, S.; Oswald, T. A.; Fleischer, J.
2021. Composites and Advanced Materials Expo (CAMX 2021) : Dallas, Texas, USA, 19th - 21st October 2021; Volume 2, 793 -, Curran