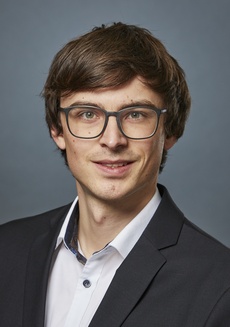 Florian Denk, M.Sc.
Research Associate

department:

Machines, Equipment and Process Automation

office hours:

to be agreed

room:

117, Geb. 70.16

phone:

+49 1523 9502623

florian denk∂ kit edu
76131 Karlsruhe
Kaiserstraße 12
Florian Denk, M.Sc.
Area of Research:
Battery cell production
Process Automation
Projects:
ReFlexBat - Adjustable coating unit for flexible coating of battery electrode
Methodology for increasing the homogeneity of long fibre preforms produced by the fibre injection moulding process
Test benches:
Curriculum Vitae:
| | |
| --- | --- |
| since 09/2020 | Research Associate at the Institute of Production Science (wbk) at Karlsruhe Institute of Technology (KIT) |
| 04/2013-03/2020 | Study of Mechanical Engineering at Karlsruhe Institute of Technology (KIT) |
Publications
[ 1 ]
Denk, F.; Redmann, A.; Nieschlag, J.; Dackweiler, M.; Coutandin, S.; Miller, D.; Mecham, S.; Osswald, T. A. & Fleischer, J. (2021), "Fabrication of composite truss structures by combination of robotic filament winding and 3D printed adhesive elements". Proceedings - CAMX 2021 REDUCED, pp. 793.


Abstract

An innovative winding process has been developed for the production of lightweight truss structures by autonomously joining composite profiles. The winding device consists of an open ring with a rotor-stator design and is moved by a vertically articulated robot. The robot allows a high degree of flexibility and design variety in the winding patterns. In order to achieve a high joint strength, however, it is necessary to provide a flange on the transverse profile which can be wound around to create a form-fit. This flange is very complex and expensive to manufacture and cannot be individually adapted. In order to provide a better flange to join these cost-effective pultruded profiles, 3D printed dual-curing epoxy joining elements are being developed. These elements are first manufactured using the digital light synthesis (DLS) printing process, which results in a semi-rigid, but only partially cured part. The printed joining elements can then be robotically wound with pre-impregnated fiber tows (towpreg). The assembly is then heated to activate the second curing reaction and co-cure the two materials, resulting in a permanent, void-free bond. Combining these two technologies enables the economic mass production of light-weight composite truss structures, aiding in an increase in resource efficiency in the corresponding fields of application such as the construction or transportation industries.