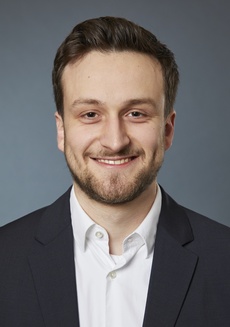 Alexander Puchta, M.Sc.
Akad. Mitarbeiter

Bereich:

Maschinen, Anlagen und Prozessautomatisierung

Sprechstunden:

nach Vereinbarung

Raum:

025, Geb. 70.16

Tel.:

+49 1523 9502627

Alexander Puchta∂ kit edu
76131 Karlsruhe
Kaiserstraße 12
Alexander Puchta, M.Sc.
Forschungs- und Arbeitsgebiete:
Themenbereich Industrie 4.0
Automatisierung der spanenden Fertigung
Lebenslauf:
| | |
| --- | --- |
| seit 07/2020 | Wissenschaftlicher Mitarbeiter am Institut für Produktionstechnik (wbk) des Karlsruher Instituts für Technologie (KIT) |
Veröffentlichungen
[ 5 ]
Netzer, M.; Bach, J.; Puchta, A.; Gönnheimer, P. & Fleischer, J. (2022), "Process Segmented based Intelligent Anomaly Detection in Highly Flexible Production Machines under Low Machine Data Availability". Procedia CIRP Volume 107, Elsevier, S. 647-652. 10.1016/j.procir.2022.05.040


Abstract

Especially in highly flexible plants or special process machines, conventional approaches like neuronal network classification or intelligent autoencoder fault detection are not suitable firstly due to the small amount and secondly due to the lack of labeling of data for each process. In this paper a novel concept is presented to segment different processes intelligently in the first step to find fine granular process patterns across process boundaries. Based on these patterns, anomaly detection and further classification are performed. A special feature is the integration of user knowledge, so that classification is possible even with a small amount of data. This approach is validated on an assembly line for electric motor production as well as in a handling robot. This paper shows results from real test series and thus demonstrates the practical suitability of the novel approach.



[ 4 ]
Schmied, J.; Puchta, A.; Scharmann, T.; Töpper, H.; Kampker, A.; Fleischer Jürgen, F. J.; Dröder, K. & Daub, R. (2022), "Framework for the Application of Industry 4.0 in Lithium-Ion Battery Cell Production". Proceedings of the Conference on Production Systems and Logistics, publish-Ing., S. 151-160. 10.15488/12168 


Abstract

The application of Industry 4.0 in lithium-ion battery cell production enables companies to achieve increased product quality and global competitiveness, since the majority of value creation takes place in this process. Studies have shown, that improving production performance is the most effective way for battery cell manufacturers to become competitive in the increasingly globalized market. To achieve operational excellence, battery manufacturers must adopt the concepts of networked and digitized production. However, holistically introducing digitalization, data systems and Industry 4.0 methods in all sectors of lithium-ion battery cell production currently poses a major challenge as comprehensive approaches are not available. Therefore, a tailored methodology for the evaluation of suitability and introduction of digitalization and Industry 4.0 is presented. The approach addresses all production-related sectors from logistics to plant engineering to quality management via so called application areas. Multiple development stages divide these into the maturity levels in terms of Industry 4.0. To design each application area and stage, Industry 4.0 use cases from battery cell producers, plant manufacturers, and battery-related research projects are clustered and abstracted for general accessibility. It is shown, that abstracted application areas may be assigned either to all production sectors such as communication or to specific fields such as quality methods. Based on the application areas, corresponding toolboxes are established forming the core of a digitalization guide. To increase the level of maturity with regard to Industry 4.0, the presented paper aims at enabling companies to apply appropriate tools from the toolbox to their production. The systematic and efficient development and implementation of digitalization as well as the holistic assessment of a company's maturity are enabled and provide an essential tool towards increased competitiveness.



[ 3 ]
Künzel, A.; Puchta, A.; Gönnheimer, P. & Fleischer, J. (2021), "Modular and flexible Automation Middleware based on LabVIEW and OPC UA". IOP science, 10.1088/1757-899X/1193/1/012109


Abstract

The increasing automation level of processes in production systems leads to new technical challenges, especially in the implementation and maintenance of software architectures. New requirements arise regarding the interface between Programmable Logic Controllers (PLC), robots, Human Machine Interfaces (HMI) and superordinate information systems (e.g. ERP). Industry 4.0 demands, among other things, an increase in flexibility, adaptability and transparency to achieve vertical and horizontal interoperability and a continuous integration. The innovative automation middleware is capable of replacing the heterogeneous interface landscape, which currently exists in many companies and institutions. The basic idea is the implementation of a modular and standardized middleware. Due to relevant characteristics, such as dataflow orientation and graphical programming interface, using LabVIEW as a programming language turned out to be the most suitable solution. The system deploys OPC Unified Architecture (OPC UA) to connect all required components across multiple enterprise levels. Moreover, the software solution controls the workflow and collects process data for further analysis. In contrast to software products available on the market, which usually come along with manufacturer dependencies, the established middleware based on the combination LabVIEW and OPC UA is transparent, extensible and independent.



[ 2 ]
Fleischer, J.; Puchta, A. & Gönnheimer, P. (2021), "Seamless and Modular Architecture for Autonomous Machine Tools". Journal of Machine Engineering 2021, Ed. Institution of the Wroclaw Board of Scientific Technical Societies Federation, 10.36897/jme/141565


Abstract

In machine tools, existing solutions for process monitoring and condition monitoring rely on additional sensors or the machine control system as data sources. For a higher level of autonomy, it becomes necessary to combine several data sources, which may be within or outside of the machine. Another requirement for autonomy is additional computing power, which may be hosted on edge devices or in the cloud. A seamless and modular architecture, where sensors are integrated in smart machine components or smart sensors, which are in turn connected to edge devices and cloud platforms, provides a good basis for the incremental realisation of autonomy in all phases of the machine life cycle.



[ 1 ]
Gönnheimer, P.; Puchta, A. & Fleischer, J. (2020), "Automated Identifcation of Parameters in Control Systems of Machine Tools". Production at the leading edge of technology, Hrsg. Behrens, B.; Brosius, A.; Hintze, W.; Ihlenfeldt, S. & Wulfsberg, J. P., Springer, Berlin, Heidelberg, S. 568-577. 10.1007/978-3-662-62138-7_57


Abstract

Especially in the context of Artifcial Intelligence (AI) applications and increasing Overall Equipment Effectiveness (OEE) requirements, the use of data in production is gaining in importance. Applications in the feld of process or condition monitoring use, for example, machine component parameters such as motor currents, travel speeds and position information. However, as the data is usually only accessible in the machine control systems in non-standard structures and semantics, while having a large number of potential variables, the identifcation and use of these parameters and data sources represents a signifcant challenge. This paper therefore presents an approach to automatically identify and assign machine parameters on the basis of time series data. For the identifcation, feature- and deep learning-based classifcation approaches are used and compared. Classifcation results show a general usability of the approaches for the identifcation of machine parameters.