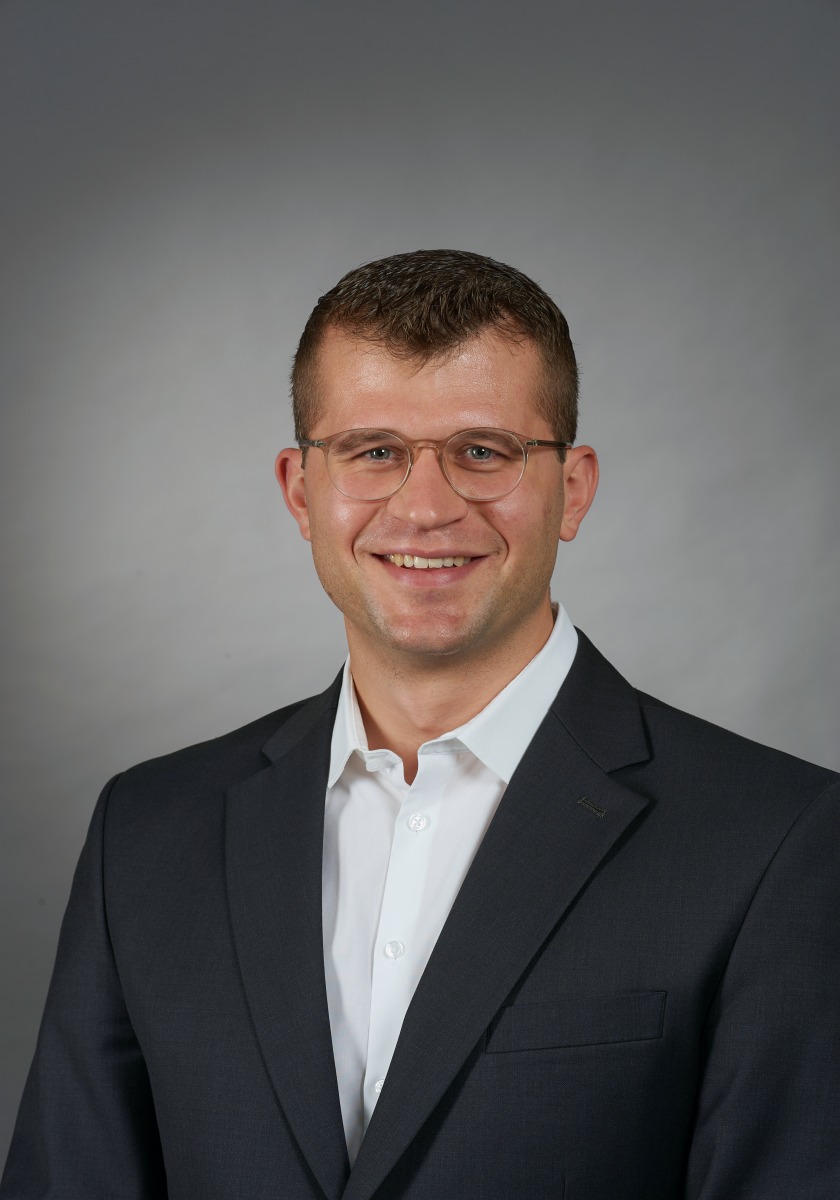 Bastian Verhaelen, M.Sc. M.Sc.
76131 Karlsruhe
Kaiserstraße 12
Bastian Verhaelen, M.Sc. M.Sc.
Area of Research:
Global Production Strategies
Location Setup in Global Production Networks in the age of Industry 4.0
Digitized start of production in global production networks
Strategic design of global production networks
General Tasks:
Projects:
GlobalRampUp - Increasing production start-up efficiency in global networks of mid-sized companies
ProdAlloPlan.net - Entscheidungsunterstützung mittelständischer Unternehmen bei der dynamischen Produktallokation in globalen Wertschöpfungsnetzwerken
Dissertation:
Level of centralization of global production networks
Curriculum Vitae:
| | |
| --- | --- |
| seit 08/2018 | Research Associate at the Institute of Production Science (wbk) at Karlsruhe Institute of Technology (KIT) |
| 04/2016 - 06/2018 | Double Degree Master Studies of "Business Administration and Engineering: Mechanical Engineering" at RWTH Aachen University and "Management Science and Engineering" at Tsinghua University |
| 10/2012 - 03/2016 | Bachelor Studies of Business Administration and Engineering: Mechanical Engineering at RWTH Aachen University |
| 24/08/1992 | Born in Erkelenz |
Publications
[ 1 ]
Verhaelen, B.; Thomas, K.; Haefner, B.; Lanza, G. & Schuh, G. (2019), "Potenziale datenbasierter Produktallokationen", ZWF Zeitschrift für wirtschaftlichen Fabrikbetrieb, vol. 114, no. 3, pp. 96-100. 10.3139/104.112053


Abstract

Die Technologie der Datensammlung und -analyse hat sich in den letzten Jahren vor allem durch die revolutionäre Entwicklung von Industrie 4.0 in der Produktion stark verändert. Viele verschiedene Mess­systeme und Sensoren nehmen Daten zu jedem Zeitpunkt der Produktion auf und speichern diese in den jeweiligen proprietären Datenspeichersystemen. Durch Middleware werden diese Daten vernetzt und können mittels einer Datenanalyse für Produktallokationen nutzbar gemacht werden. Im Folgenden wird eine Methodik vorgestellt, mit der Data-Analytics-Verfahren für Produktallokationen in globalen Produktionsnetzwerken angewendet werden können.



[ 2 ]
Verhaelen, B.; Treber, S.; Haefner, B. & Lanza, G. (2019), "Standortgerechter Produktionsanlauf im Netzwerk", ZWF Zeitschrift für wirtschaftlichen Fabrikbetrieb, vol. 114, no. 3, pp. 110-114. 10.3139/104.112050


Abstract

Vielen kleinen und mittleren Unternehmen bedarf es eines effizienten Managements des Produktionsanlaufs, um ihre globale Wettbewerbsfähigkeit zu erhöhen. Dieser Beitrag stellt einen Ansatz vor, mithilfe einer Standortanalyse und eines Planungs- und Steuerungsmodells den Produktionsanlauf an verschiedenen Standorten effizient durchzuführen. Hierzu werden gegebene Rahmenbedingungen eines Produktionsanlaufs an global verteilten Standorten analysiert und mit Hilfe einer Methodik einem Referenzprozess zugeordnet, um eine Anpassung an wechselnde globale Einflussfaktoren, wie z. B. Faktorkosten oder Marktentwicklungen, zu gewährleisten.



[ 3 ]
Ungermann, F.; Jacob, A.; Verhaelen, B.; Itterheim, A.; Park, Y.; Stricker, N. & Lanza, G. (2019), "Die Zukunft der Kennzahlensysteme", Industrie 4.0 Management, vol. 1, no. 3, pp. 25-29.


Abstract

Die Nutzung von Kennzahlen erlaubt eine umfassende Betrachtung vielfältiger Leistungsmerkmale eines Unternehmens und dient als fundierte Grundlage für Entscheidungen und Steuerungsaufgaben. Durch die Abbildung von Systemen in einem Digital Twin steigt nicht nur die Menge an Daten, sondern auch deren Verfügbarkeit und Aktualität. Das Paper beschreibt ein ganzheitliches übertragbares Kennzahlennetzwerk, welches zur Steuerung von Unternehmen eingesetzt werden kann. Strategische Ziele lassen sich durch das Kennzahlennetzwerk einfach operationalisieren. Hierfür wird auf die Daten eines Digital Twins zurückgegriffen. Anhand eines Industriebeispiels werden die Vorteile und Möglichkeiten des Einsatzes eines solchen Netzwerks demonstriert.



[ 4 ]
Verhaelen, B.; Haefner, B. & Lanza, G. (2019), "Scalable and flexible production ramp-up in global production networks - a strategic network approach". EurOMA Proceedings 2019, eds. EurOMA, pp. 317-326.


Abstract

Strategic management of global production networks (GPN) is getting increasingly complex and continuously more relevant for the long-term success of producing companies. Each plant in the GPN needs to accomplish goals coming from strategic management to stay competitive by adjusting their plant capabilities. In tactical management, production ramp-up processes are a great chance to be used for adjusting plant capabilities due to the high investment and cost determination character. This paper faces the possibility to integrate production ramp-up processes in the strategic management of GPN. The approach identifies relevant ramp-up dimensions and processes for an early strategy achievement.



[ 5 ]
Lanza, G.; Haefner, B.; Verhaelen, B. & Peukert, S. (2019), "Produktionsnetzwerke und Fabriktypen der Zukunf", ZWF Zeitschrift für wirtschaftlichen Fabrikbetrieb, no. 12, pp. 797-801. 10.3139/104.112196 [07.01.20].


Abstract

Die zunehmende Globalisierung führte in den letzten Dekaden zu global verteilten Produktionsnetzwerken. Um solche Netzwerke und die darin befindlichen Fabriken auf strategischer Ebene auszurichten, haben sich idealtypische Modelle bewährt, die als Leitlinien einer fundierten Fabrik- und Netzwerkorganisation zu verstehen sind. Dieser Beitrag beschäftigt sich mit solchen idealtypischen Modellen und zeigt exemplarisch auf, wie sie sich für das Management globaler Produktionsnetzwerke einsetzen lassen.



[ 6 ]
Lanza, G.; Schuh, G.; Friedli, T.; Verhaelen, B.; Rodemann, N. & Remling, D. (2020), "Transformation globaler Produktionsnetzwerke", ZWF Zeitschrift für wirtschaftlichen Fabrikbetrieb, no. 4, pp. 196-199. 10.3139/104.112262 [29.04.20].


Abstract

Das Management globaler Produktionsnetzwerke ist aufgrund weltweiter Turbulenzen, hervorgerufen durch ökonomische, politische und technologische Einflüsse, besonderen Herausforderungen ausgesetzt und erfordert dabei den Umgang mit einem hohen Grad an Komplexität. Aufgrund der gegenwärtigen betrieblichen Rahmenbedingungen ist eine systematische Transformation globaler Produktionsnetzwerke notwendig. Der vorliegende Beitrag zeigt Trends und konkrete Werkzeuge auf, die Produktionsverantwortliche bei der Transformation ihrer Netzwerke unterstützen.



[ 7 ]
Verhaelen, B.; Kehm, F.; Häfner, B. & Lanza, G. (2020), "Reaktion auf Störungen globaler Produktionsanläufe", ZWF Zeitschrift für wirtschaftlichen Fabrikbetrieb, vol. 8, pp. 492-496. 10.3139/104.112377 [30.11.-1].

[ 8 ]
Verhaelen, B.; Häfner, B. & Lanza, G. (2020), "Methodology for the strategy-oriented distribution of decision autonomy in global production networks". Flexible Mass Customisation, Elsevier, pp. 15-20.


Abstract

Multinational companies deal with production processes in various countries by operating global production networks. These production processes are allocated to production plants with different levels of autonomy regarding strategic and operative decisions. Typically, each plant and the whole network are managed by one or more network managers who have to deal with a decision overload in their daily business. 50% of their decisions are made in less than 9 minutes and only a small amount of decision tasks are dealt with for more than one hour. To reduce this dilemma, it was found that the distribution of decision autonomy can be enhanced. It depends on the company's strategy and complexity dimensions in global production networks. However, so far there is little evidence on how to better distribute decision autonomy in global production networks in detail. Furthermore, it is not transparent at what level of centralism a global production network should be managed without cutting the capabilities of production plants. This paper presents a methodology, which examines relevant strategy dimensions and derives guidance on how to distribute decisions in global production networks. First, the network and production strategies of global production networks are classified. Second, relevant complexity dimensions and decisions are introduced. Third, the influence of the distribution of decision autonomy on strategy dimensions is quantified by an impact model. Furthermore, the effect of complexity on the distribution of decision autonomy is quantified by an impact model. Here, the integration of empirical data was used to validate the different influences. Finally, the ideal distribution of decision autonomy for specific production plants in the global production network is derived. The methodology is applied in an industrial use case to prove its practical impact.



[ 9 ]
Verhaelen, B.; Mayer, F.; Peukert, S. & Lanza, G. (2021), "A comprehensive KPI network for the performance measurement and management in global production networks", Production Engineering Research and Development, 10.1007/s11740-021-01041-7 [20.03.26].


Abstract

The trend of globalization has led to a structural change in the sales and procurement markets of manufacturing companies in recent decades. In order not to be left behind by this change, companies have internationalized their production structures. Global production networks with diverse supply and service interdependencies are the result. However, the management of global production networks is highly complex. Key performance indicator (KPI) networks already exist at the corporate level and site level to support the management of complex systems. However, such KPI networks are not yet available to support the management of entire production networks. In this article, a KPI network for global production networks is presented, which links the key figures of the site level and the corporate level. By integrating both levels into a comprehensive KPI network, cause and effect relationship between the production-related KPIs and the strategic KPIs of a corporate strategy become transparent. To this end, this KPI network is integrated into a Performance Measurement and Management (PMM) methodology. This methodology consists of three phases: performance planning, performance improvement, and performance review. For testing the practical suitability, the PMM methodology is applied to the production network of an automotive supplier using a simulation model to estimate the effects of proposed improvement actions of the methodology.