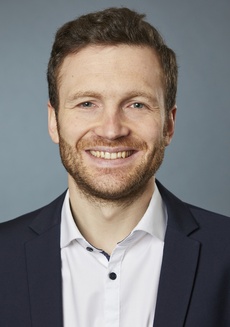 Dominik Mayer, M.Sc.
Group leader batteries and fuel cells

department:

Machines, Equipment and Process Automation

office hours:

to be agreed

room:

023, Geb. 70.16

phone:

+49 1523 9502598

fax:

+49 721 608-45005

Dominik Mayer2∂ kit edu
76131 Karlsruhe
Kaiserstraße 12
Dominik Mayer, M.Sc.
Area of Research:
Production systems for battery cell manufacturing
Process modeling and simulation
Experimental characterization of production processes
Projekte:
Sim4Pro: Digitization platform - simulation for battery cell production
Publications
[ 1 ]
Fleischer, J.; Spohrer, A.; Klee, B.; Mayer, D. & Spiller, Q. (2018), Orientierungshilfe zur Einführung einer vernetzten Produkt- und Produktionsarchitektur in der Landtechnik, VDMA Landtechnik, Frankfurt am Main.


Abstract

Der vorliegende VDMA-Leitfaden Landtechnik 4.0 soll dem Mitgliederkreis als hilfreiches Kompendium dienen, um den vielfach als disruptiv beschriebenen Wandel der industriellen Produktionspraxis kundig und umsichtig gestalten zu können. Im Kern geht es uns darum, prägnant aufzuzeigen, wie Produktionstechniken mit innovativen IT-Technologien verschmolzen und dabei gleichzeitig Ansätze für neue lösungsorientierte Produkte im Landmaschinenbau geschaffen werden können. Der Leitfaden basiert in seinen Grundzügen auf dem im Jahr 2015 veröffentlichten VDMA-Leitfaden Industrie 4.0, der von Frau Dr. Beate Stahl vom VDMA Forum Industrie 4.0, von Herrn Prof. Dr. Reiner Anderl vom DiK Fachgebiet Datenverarbeitung in der Konstruktion der TU Darmstadt und von Herrn Prof. Dr. Jürgen Fleischer vom wbk Institut für Produktionstechnik des Karlsruher Instituts für Technologie erstellt wurde. Der VDMA-Leitfaden Landtechnik 4.0 ist ein gutes Beispiel für das hervorragende Miteinander der im VDMA organisierten Landmaschinen- und Traktorenhersteller, welches sich durch ebensolche gemeinschaftlichen Projekte wie der Erarbeitung eines Leitfadens zeigt. Er ist als praxistaugliches Tool konzipiert, das dazu beitragen möge, konkrete Ansatzpunkte im Hinblick auf Industrie 4.0 in den Unternehmen zu identifizieren und umzusetzen.



[ 2 ]
Wirth, F.; Hausmann, L.; Halwas, M.; Hofmann, J.; Mayer, D.; Wößner, W. & Fleischer, J. (2019), "Optimierte Fertigung elektrischer Traktionsmotoren durch Technologien der Industrie 4.0". Future Mobility: automatisiert - vernetzt - elektrisch, eds. Technische Akademie Esslingen e.V., pp. 1.


Abstract

Striktere Emissionsvorgaben der Europäischen Union sowie die Endlichkeit fossiler Energieträger werden in der kommenden Dekade zu einem steigenden Absatz elektrifizierter Antriebsstränge führen. Damit die wachsende Nachfrage nach leistungsfähigen Traktionsmotoren sowie die hohen Anforderungen bezüglich Stückzahl und Qualität erfüllt werden können, müssen die innovativen aber vielmals noch unreifen Fertigungsprozesse für den industriellen Einsatz befähigt werden. Die Integration neuartiger Technologien der Industrie 4.0 in die Produktionskette stellt einen vielversprechenden Ansatz zur Lösung dieser Probleme dar. Durch eine digitale Prozessabsicherung können Wickelverfahren vor deren hardwareseitiger Erprobung bewertet und optimiert sowie Inbetriebnahmezeiten verkürzt werden. Zudem gestattet der digitale Zwilling sowohl eine prädiktive Prozesssteuerung als auch die isolierte Betrachtung von Einflussgrößen und darauf basierende Ableitung von Regelungsstrategien. Methoden des maschinellen Lernens und intelligente Algorithmen ermöglichen die Bewertung bislang unbekannter, produktseitiger Merkmale, wie den Lagenaufbau von Leitern in den Nuten von Blechpaketen, sowie die Einhaltung enger Qualitätsvorgaben durch angepasste Montagestrategien.



[ 3 ]
Mayer, D.; Hausmann, L.; Maul, N.; Reinschmidt, L.; Hofmann, J. & Fleischer, J. (2019), "Systematic investigation of the grooving process and its influence on slot insulation of stators with hairpin technology". 9th International Electric Drives Production Conference (E|DPC) - Proceedings, IEEE, Piscataway, NJ, pp. 1. 10.1109/EDPC48408.2019.9011935


Abstract

Due to the increasing electrification of the automotive drive train, production systems for electric motors grow in importance. In order to produce the required quantities at reasonable costs there is a particular need for developing new stator production plants. A trend towards using shaped coils in stators, so called hairpins, is emerging as this technology promises great automation potentials as well as high copper fill factors. Due to the axial insertion of the hairpins into the lamination stack the requirements for the slot liner shape change in contrast to the widely used winding technologies. Thus, new slot liner shapes, such as ?B?-, ?O?- or ?S?-shapes, can be used. The shapes replace the previous ?U?- shaped slot liner as well as the slot cover. In order to maintain a high fill factor, the shapes have to fit closely to the lamination stack. For this purpose, the insulation paper must be grooved and then folded into the desired shape. To map the new slot liner shapes, the grooving process and its influence on slot insulation must be understood in detail. In this paper the grooving process and its effect on breakdown voltage of the slot liner are examined. First, an overview about different insulation materials for slot liners is given. Second, a test rig setup to adjust different depths and widths of grooving is introduced. Additionally, a further test rig setup for conducting breakdown voltage tests on slot liners is presented. Based on these test rigs, experiments are carried out to determine how the grooving process parameters affect the breakdown voltage of the slot liners. As a result of the investigation a characterization of the grooving process regarding the breakdown voltage for the examined insulation paper is presented.



[ 4 ]
Mayer, D. & Fleischer, J. (2021), "Concept for modelling the influence of electrode corrugation after calendering on stacking accuracy in battery cell production". Procedia CIRP, Elsevier, pp. 744-749. 10.1016/j.procir.2021.11.125


Abstract

Due to the complex process chain in battery cell production, effects of processes on subsequent processes must be evaluated. As challenge in calendering electrodes, corrugation can be observed depending on adjusted parameters. To evaluate the corrugation with regard to the subsequent stacking process accuracy, a concept for modelling the process chain calendering - separation - single sheet stacking is presented. First, an experimental approach for modelling the calendering impact on the electrode sheet geometry after separation is suggested. Finally, a FEM simulation approach for the single sheet stacking process is presented, which is suitable to model impacts from previous processes.



[ 5 ]
Mayer, D.; Wurba, A.; Bold, B.; Bernecker, J.; Smith, A. & Fleischer, J. (2021), "Investigation of the Mechanical Behavior of Electrodes after Calendering and Its Influence on Singulation and Cell Performance", processes, vol. 9, no. 11, 10.3390/pr9112009


Abstract

Battery cell production is a complex process chain with interlinked manufacturing processes. Calendering in particular has an enormous influence on the subsequent manufacturing steps and final cell performance. However, the effects on the mechanical properties of the electrode, in particular, have been insufficiently investigated. For this reason, the impact of different densification rates during calendering on the electrochemical cell performance of NMC811 (LiNi0.8Mn0.1Co0.1O2) half-cells are investigated to identify the relevant calendering parameters. Based on this investigation, an experimental design has been derived. Electrode elongations after calendering in and orthogonal to the running direction of the NMC811 cathode are investigated in comparison with a hard carbon anode after calendering. Elongations orthogonal to the machine direction are observed to have no major dependencies on the compaction rate during calendering. In the machine direction, however, significant elongation occurs as a dependency of the compaction rate for both the hard carbon anode and the NMC811. In addition, the geometric shape of the NMC811 electrodes after separation into individual sheets is investigated with regard to different compaction rates during calendering. It is shown that the corrugations that occur during calendering are propagated into the single electrode, depending on the compaction rate.