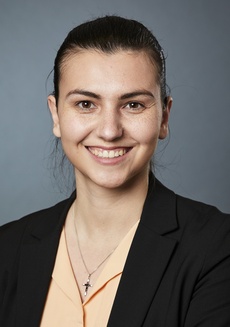 Manuela Neuenfeldt, M.Sc.
76131 Karlsruhe
Kaiserstraße 12
Manuela Neuenfeldt (geb. Leoni), M.Sc.
Area of Research:
Additive manufacturing by using selective laser melting
Test benches:
Lebenslauf:
| | |
| --- | --- |
| since 01/2018 | Research Associate at the Institute of Production Science (wbk) at Karlsruhe Institute of Technology (KIT) |
| 04/2015-11/2017 | M.Sc. in mechanical engineering at KIT |
| 10/2011-03/2015 | B.Sc. in mechanical engineering at KIT |
Publications
[ 1 ]
Graf, G.; Leoni, M.; Müller, T.; Fischer-Bühner, J.; Frey, M.; Beckers, D.; Donisi, S.; Zanger, F. & Schulze, V. (2020), "Thermal insulation and laser-based preheating method for processing a ledeburitic tool steel in LPBF". Holistic innovation in Additive Manufacturing.


Abstract

As part of a GER-CAN research project (HiPTSLAM), the development and holistic processing of high-performance tool steels for AM is a promising topic regarding the acceptance of LPBF technology for functional optimized die, forming and cutting tools. One of the primary problems at processing hardly weldable tool steels with increased carbon contents (? 0,4 wt%) in LPBF is the high risk of hot cracking due to the local stresses associated with the martensitic transformation. Possible solutions on this issue are based on complex external preheating systems from the top (e.g. infrared radiators) or the bottom (e.g. base plate heaters) to reduce the thermal gradients and thus the risk for hot cracking during solidification. Within the HiPTSLAM project another more efficient possibility should be examined, which consists of a preheating strategy with the two already available 400 W laser sources on a SLM?280 and a thermal insulation layer to keep the temperature inside the base plate and the part as constant as possible. The new preheating method will be tested with a newly developed, ledeburitic tool steel with a carbon content of more than 1,3 wt%. The results will be validated against a commercially available 500 ?C preheating system.