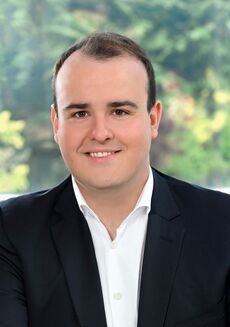 Philipp Gönnheimer, M.Sc.
Group leader Machine Tools and Mechatronics

department:

Machines, Equipment and Process Automation

office hours:

to be agreed

room:

024, Geb. 70.16

phone:

+49 1523 9502578

Philipp Goennheimer∂ kit edu
76131 Karlsruhe
Kaiserstraße 12
Philipp Gönnheimer, M.Sc.
Area of Research:
Control and communication technology in machines and production systems
Modular concepts for production systems
Industry 4.0
Projects:
Publications
[ 1 ]
Barton, D.; Gönnheimer, P.; Qu, C. & Fleischer, J. (2018), "Self-describing connected components for live information access within production systems". 4th International Conference on System-Integrated Intelligence: Intelligent, Flexible and Connected Systems in Products and Production, eds. Denkena, B.; Thoben, K. & Trächtler, A., pp. 250-257. 10.1016/j.promfg.2018.06.031


Abstract

Access to data from components in production systems is potentially an enabler for various data-based approaches. This paper presents a practical approach to transform mechanical components into self-describing cyber-physical systems connected within a local network. The requirements for typical use cases are analysed and a modular cyber-physical connector is proposed. The data is collected by a central OPC UA client and fed into a web-based visualisation, so that it is easily accessible for operators, maintenance staff, and other stakeholders. The approach is illustrated for components with two different levels of complexity.



[ 2 ]
Gönnheimer, P.; Kimmig, A.; Mandel, C.; Stürmlinger, T.; Yang, S.; Schade, F.; Ehrmann, C.; Klee, B.; Behrendt, M.; Schlechtendahl, J.; Fischer, M.; Trautmann, K.; Fleischer, J.; Lanza, G.; Ovtcharova, J.; Becker, J. & Albers, A. (2019), "Methodical approach for the development of a platform for the configuration and operation of turnkey production systems". Procedia CIRP, eds. Putnik, G., pp. 880-885. 10.1016/j.procir.2019.04.260


Abstract

Shorter product lifecycles lead not only to faster time-to-market for products but also to the need for just as fast available associated production systems. These shorter product lifecycles, as well as the increasing individualization of products, also result in further decreasing production lot sizes. Young companies in China in particular are characterized by a very high speed of innovation but may not have the necessary manufacturing knowledge or capacities to bring their developed products to the market with a scalable production. For this reason, there is a great need to quickly set up and commission turnkey production systems or to reconfigure existing production systems for new production tasks in the shortest possible time. This paper describes the design and architecture of a cloud platform with the aim to support a manufacturer independent design process for turnkey production systems. This process ranges from the product to be manufactured to the operation of the production system. Firstly, the structure and methodology used to link the various objectives are discussed. The system for recording and structuring product and production system data to create reusable modules from components and machines is described. Subsequently, the use of standardized modules is developed to support reconfiguration of the production system during operation. In addition, the digital business models tailored to the production system are proposed to the platform user for commissioning and operation of the plant. A case study is conducted to validate the proposed methodology.



[ 3 ]
Barton, D.; Gönnheimer, P.; Schade, F.; Ehrmann, C.; Becker, J. & Fleischer, J. (2019), "Modular smart controller for Industry 4.0 functions in machine tools". Procedia CIRP, eds. Butala, P.; Govekar, E. & Vrabič, R., pp. 1331-1336. 10.1016/j.procir.2019.04.022


Abstract

In machine tools, Industry 4.0 functions can increase availability through predictive maintenance, while other functions improve productivity and workpiece quality through process supervision and optimisation. Many of these functions rely on data communication between systems from different suppliers. Requirements regarding latency and computing vary widely depending on the application. Based on an analysis of these requirements, a smart controller for the implementation of Industry 4.0 is designed, using a hypervisor to allow for the integration of soft real-time and best-effort applications.



[ 4 ]
Gönnheimer, P.; Hillenbrand, J.; Betz-Mors, T.; Bischof, P.; Mohr, L. & Fleischer, J. (2019), "Auto-configuration of a digital twin for machine tools by intelligent crawling". Production at the leading edge of technology, eds. Wulfsberg, J. P.; Hintze, W. & Behrens, B., pp. 543-552.


Abstract

The digitalisation of production technology is becoming increasingly important today and will play a key role in machine tools in the future. In order to generate as much information as possible about machines and components as well as the product, the number of sensor systems and further devices is con-stantly increasing. A challenge with this increasing number of data sources is the also increasing complexity of the system with regard to the generation of the ma-chine tool's digital twin that is to be fed from these data sources. For this, a ho-listic approach is necessary which combines all parameters and values with a uniform semantics and links them to the corresponding data sources. For this purpose, this paper uses a uniform information model to describe a machine tool, which is linked to the respective node variable names in the respective OPC namespace of the machine tool. In the event that this linkage plan is incomplete or completely missing, this paper presents a concept for a so-called crawler tool, an OPC client application. The crawler searches the parameters and values in the described OPC namespace of the machine tool, identifies them by domain knowledge-driven plausibility checks and assigns them to the corresponding pa-rameters of the information model of the machine tool.



[ 5 ]
Gönnheimer, P.; Kimmig, A.; Ehrmann, C.; Schlechtendahl, J.; Güth, J. & Fleischer, J. (2019), "Concept for the Configuration of Turnkey Production Systems". Procedia CIRP, eds. Dietrich, F. & Krenkel, N., pp. 234-238. 10.1016/j.procir.2020.01.047


Abstract

Shorter product lifecycles and increasing individualization of products lead to the necessity for a reoccurring process, which includes the selection and configuration of production systems to provide a system that produces the product. Especially in fast developing countries like China, the offer for this knowledge can hardly supply the demand. In order to solve this, this paper presents a systematic approach in the form of a multi-stage process. In the first stage, a configuration logic maps product requirements with the properties and specifications of production machines together with equipment and matches them using a uniform data information model for both products and production modules. In the second stage, the turnkey production system is set up, commissioned and operated based on the Industrie 4.0 administration shell. The presented approach has been prototypically implemented on an online platform and demonstrated on a real production system using a new product that has been integrated into production.



[ 6 ]
Netzer, M.; Gönnheimer, P.; Michelberger, J. & Fleischer, J. (2020), "Skalierbarkeit von KI-Anwendungen in der Produktion", Fabriksoftware, pp. 25. 10.30844/FS20-1_51-54


Abstract

Bereits heute existieren vereinzelt vielversprechende industrielle Anwendungen der Künstlichen Intelligenz, vor allem in den Bereichen Prozess- und Zustandsüberwachung. Heutige KI-Modelle werden jedoch ausschließlich als Insellösungen für einen Prozess und eine Maschine entwickelt. Durch heterogene Produktionsanlagen existieren kaum prozess- und zustandsübergreifend anwendbare KI-Modelle. Wie gelingt daher eine breite Übertrag- und Skalierbarkeit der Anwendungen in der gesamten Produktion? Dies erfolgt einerseits durch die Vereinheitlichung der Informationsmodelle verschiedener Maschinen durch intelligente Parameteridentifikation (Crawling) sowie in einem zweiten Schritt durch eine Datensegmentierung zum Aufbau strukturierter Datenbasen (Clustering). Auf Grundlage von kontextbasieren Datenbasen, die aus einem einheitlichen Informationsmodell aus unterschiedlichsten Maschinen entstehen, können KI-Ansätze skaliert und auf die gesamte Produktion übertragen werden.



[ 7 ]
Gönnheimer, P.; Netzer, M.; Mohr, L.; von Hörsten, G. & Fleischer, J. (2020), "Erhöhung der Skalierbarkeit von KI-Anwendungen in Produktionsanlagen durch intelligente Parameteridentifikation und Datensegmentierung", ZWF Zeitschrift für wirtschaftlichen Fabrikbetrieb, pp. 517-519. 10.3139/104.112318


Abstract

Die Digitalisierung von Maschinen und Anlagen im Kontext von Anwendungen der K?nstlichen Intelligenz (KI) gewinnt heute zunehmend an Bedeutung. Heutige Anwendungen im Bereich KI werden jedoch größtenteils als prozess- oder maschinenspezifische Insellösung entwickelt, deren Übertragbarkeit durch die Heterogenität von Produktionsanlagen stark eingeschränkt ist. Ziele aktueller Forschungsarbeiten sind daher eine intelligente Parameteridentifikation zur Findung von Datenquellen und Vereinheitlichung von Informationsmodellen verschiedener Maschinen sowie eine darauf aufbauende Datensegmentierung strukturierter Datenbasen.



[ 8 ]
Gönnheimer, P.; Puchta, A. & Fleischer, J. (2020), "Automated Identifcation of Parameters in Control Systems of Machine Tools". Production at the leading edge of technology, eds. Behrens, B.; Brosius, A.; Hintze, W.; Ihlenfeldt, S. & Wulfsberg, J. P., Springer, Berlin, Heidelberg, pp. 568-577. 10.1007/978-3-662-62138-7_57


Abstract

Especially in the context of Artifcial Intelligence (AI) applications and increasing Overall Equipment Effectiveness (OEE) requirements, the use of data in production is gaining in importance. Applications in the feld of process or condition monitoring use, for example, machine component parameters such as motor currents, travel speeds and position information. However, as the data is usually only accessible in the machine control systems in non-standard structures and semantics, while having a large number of potential variables, the identifcation and use of these parameters and data sources represents a signifcant challenge. This paper therefore presents an approach to automatically identify and assign machine parameters on the basis of time series data. For the identifcation, feature- and deep learning-based classifcation approaches are used and compared. Classifcation results show a general usability of the approaches for the identifcation of machine parameters.



[ 9 ]
Mühlbeier, E.; Gönnheimer, P.; Hausmann, L. & Fleischer, J. (2020), "Value Stream Kinematics". Production at the leading edge of technology, eds. Behrens, B.; Brosius, A.; Hintze, W.; Ihlenfeldt, S. & Wulfsberg, J. P., Springer, Berlin, Heidelberg, pp. 409-418. 10.1007/978-3-662-62138-7_41


Abstract

The trend towards individualized products and the increasing demand for a greater variety of variants create new challenges for existing production environments and require a re-thinking of production. Established manufacturing systems that provide the desired flexibility are associated with significant productivity restrictions and are therefore unable to compete economically with production from rigid production lines. They are therefore often limited to serving niche markets. Consequently, an approach is needed that combines high productivity with high flexibility. For this purpose, this paper presents a new approach to manufacturing with an equally high productivity and flexibility, so-called value stream kinematics. The basic idea of value stream kinematics is to combine the advantages of specialized machines with the versatility of industrial robots. The vision behind this is to be able to realize entire value streams with uniform robot-like kinematics and no need for special machines.



[ 10 ]
Qu, J.; Barton, D.; Gönnheimer, P.; Pinsker, F.; Kufer, D. & Fleischer, J. (2020), "Self-Aware LiDAR Sensors in Autonomous Systems using a Convolutional Neural Network". Intelligent, Flexible and Connected Systems in Products and Production, eds. Thoben, K.; Dekena, B.; Lang, W. & Trächtler, A., Elsevier, pp. 50-55. 10.1016/j.promfg.2020.11.010


Abstract

Autonomous systems, as found in autonomous driving and highly automated production systems, require an increased reliability in order to achieve their high economic potential. Self-aware sensors are a key component in highly reliable autonomous systems. In this paper we highlight a proof of concept (PoC) of a deep learning method that enables a LiDAR (Light detection and ranging) sensor to detect functional impairment. More specifically, a deep convolutional neural network (CNN) is developed and trained with labelled LiDAR data in the form of point clouds to classify the degree of impairment of its functionality. The results are statistically significant and can be regarded as a general classifier for objects within LiDAR data, applied to selected cases of sensor impairment. In detecting impairment and evaluating the correctness of the captured data, the sensor gains a basic form of self-awareness. The presented methods and insights pave the way for improved safety of autonomous systems by the means of more sophisticated self-aware neural networks.



[ 11 ]
VDMA Antriebstechnik, V. A. (2021), Leitfaden Antriebstechnik 4.0, VDMA Verlag GmbH, Frankfurt am Main.


Abstract

Als initiales Werkzeug zur Identifikation konkreter Digitalisierungsprojekte sowie zur regelmäßigen Einordnung des bereits erreichten Ist-Zustandes versteht sich der Leitfaden "Antriebstechnik 4.0" als kontinuierlicher Wegbegleiter und Impulsgeber im Zuge der digitalen Transformation der Branche. In Zeiten des disruptiven technologischen Fortschritts mit ebenso großen Handlungsbedarfen soll der Leitfaden "Antriebstechnik 4.0" Unternehmen als Anstoß und Orientierung auf ihrem spezifischen Weg hin zur "antriebstechnischen Exzellenz" dienen.



[ 12 ]
Netzer, M.; Palenga, Y.; Gönnheimer, P. & Fleischer, J. (2021), "Offline-Online Pattern Recognition for Enabling Time Series Anomaly Detection on Older NC Machine Tools". Journal of Machine Engineering 2021, Ed. Institution of the Wroclaw Board of Scientific Technical Societies Federation, pp. 98-108. 10.36897/jme/132248


Abstract

Intelligent IoT functions for increased availability, productivity and component quality offer significant added value to the industry. Unfortunately, many old machines and systems are characterized by insufficient, inconsistent IoT connectivity and heterogeneous parameter naming. Furthermore, the data is only available in unstructured form. In the following, a new approach for standardizing information models from existing plants with machine learning methods is described and an offline-online pattern recognition system for enabling anomaly detection under varying machine conditions is introduced. The system can enable the local calculation of signal thresholds that allow more granular anomaly detection than using only single indexing and aims to improve the detection of anomalous machine behaviour especially in finish machining.



[ 13 ]
Schäffer, E.; Gönnheimer, P.; Kupzik, D.; Brossog, M.; Coutandin, S.; Franke, J. & Fleischer, J. (2021), "Web-based platform for planning and configuration of robot-based automation solutions: A retrospective view on the research project ROBOTOP". Annals of Scientific Society for Assembly, Handling and Industrial Robotics 2021, Springer International Publishing, 10.1007/978-3-030-74032-0


Abstract

Automation solutions in production represent a sensible and long-term cost-effective alternative to manual work, especially for physically strenuous or dan-gerous activities. However, especially for small companies, automation solutions are associated with a considerable initial complexity and a high effort in planning and implementation. The ROBOTOP project, a consortium of industrial compa-nies and research institutes has therefore developed a flexible web platform for the simplified, modular planning and configuration of robot-based automation so-lutions for frequent tasks. In this paper, an overview of the project?s scientific findings and the resulting platform is given. Therefore, challenges due to the scope of knowledge-based engineering configurators like the acquisition of nec-essary data, its description, and the graphical representation are outlined. Insights are given into the platform?s functions and its technical separation into different Microservices such as Best Practice selection, configuration, simulation, AML-data-exchange and spec-sheet generator with the focus on the configuration. Fi-nally, the user experience and potentials are highlighted.



[ 14 ]
Fleischer, J.; Puchta, A. & Gönnheimer, P. (2021), "Seamless and Modular Architecture for Autonomous Machine Tools". Journal of Machine Engineering 2021, Ed. Institution of the Wroclaw Board of Scientific Technical Societies Federation, 10.36897/jme/141565


Abstract

In machine tools, existing solutions for process monitoring and condition monitoring rely on additional sensors or the machine control system as data sources. For a higher level of autonomy, it becomes necessary to combine several data sources, which may be within or outside of the machine. Another requirement for autonomy is additional computing power, which may be hosted on edge devices or in the cloud. A seamless and modular architecture, where sensors are integrated in smart machine components or smart sensors, which are in turn connected to edge devices and cloud platforms, provides a good basis for the incremental realisation of autonomy in all phases of the machine life cycle.



[ 15 ]
Fleischer, J.; Kößler, F.; Sawodny, J.; Storz, T.; Gönnheimer, P. & Hofmann, J. (2021), "Agile Batteriezellfertigung als Antwort auf volatile Märkte und Technologien Agile Battery Cell Manufacturing as Response for Volatile Markets and Technologies", wt online, pp. 486 - 489. doi.org/10.37544/1436-4980-2021-07-08-18


Abstract

Die industrielle Batteriezellfertigung ist geprägt durch starre Produktionssysteme für die Massenfertigung. Die Fertigung anwendungsspezifischer Zellen im geringen bis mittleren Stückzahlsegment erfolgt derzeit kostenintensiv in einer Werkstattfertigung. Basierend auf standardisierten Roboterzellen und einer flexiblen Steuerungsarchitektur wird ein Konzept zur hoch automatisierten material-, format- und stückzahlflexiblen Batteriezellfertigung beschrieben. Agile Battery Cell Manufacturing as Response for Volatile Markets and Technologies Industrial battery cell production is characterized by rigid production systems for mass production. The production of application-specific cells in a low to medium quantity segment is currently performed by cost-intensive workshop production. Based on standardized robotic cells and a flexible control architecture, a concept for highly automated battery cell production that is flexible in terms of material, format and number of units is described.



[ 16 ]
Netzer, M.; Gönnheimer, P.; Schäfer, W.; Grosser, K. & Fleischer, J. (2021), "Daten-Enabling für eine breite KI-Anwendung", wt Werkstattstechnik online, vol. 111, pp. 481-485. 10.37544/1436-4980-2021-07-08-13


Abstract

Die stärker werdende Bedeutung von Digitalisierung im Maschinenbau stellt klein- und mittelständische Anlagenanbieter wie -betreiber vor neue Herausforderungen. Vor allem bei Bestandsanlagen in heterogenen Daten- und Schnittstellenlandschaften der Produktion sind innovative Ansätze zur Vernetzung und Erzeugung einer Datenpipeline notwendig. Ziel der in diesem Beitrag vorgestellten Forschung ist deshalb die einfache und nachrüstbare Bereitstellung von Maschinendaten zur Steigerung der Wertschöpfung durch KI-Anwendungen.



[ 17 ]
Netzer, M.; Begemann, E.; Gönnheimer, P. & Fleischer, J. (2021), "Digitalisierung im deutschen Maschinen- und Anlagenbau", wt Werkstattstechnik online, vol. 111, pp. 526-530. 10.37544/1436-4980-2021-07-08-58


Abstract

Das stetig zunehmende volatile Marktumfeld verlangt, unter anderem, nach hoher Effektivität der eigenen Produktion, um international wettbewerbsfähig zu bleiben. Die zur Steigerung der Anlagenverfügbarkeit beitragende Digitalisierung von Produktionsanlagen findet im Maschinen- und Anlagenbau dennoch nur zögerlich Anwendung. Auf Basis einer Unternehmensbefragung wurden die Anforderungen an digitale Nachrüstlösungen analysiert, Diskrepanzen zu bestehenden Systemen abgeleitet und Bedarfe sowie mögliche Lösungen bei der Digitalisierung von Produktionsanlagen aufgezeigt.



[ 18 ]
Armbruster, J.; Gönnheimer, P. & Netzer, M. (2021), "Predictive Maintenance in der Antriebstechnik", pp. 66-69.


Abstract

Industrie 4.0 fördert den Trend hin zur Produktion kleiner Losgrößen mit hoher Produktvarianz. Dadurch werden Antriebe in den Maschinen und Anlagen unterschiedlich belastet und die Voraussage für den passenden Wartungszeitpunkt erschwert. Die IIoT Building Blocks helfen bei Predictive Maintenance.



[ 19 ]
Künzel, A.; Puchta, A.; Gönnheimer, P. & Fleischer, J. (2021), "Modular and flexible Automation Middleware based on LabVIEW and OPC UA". IOP science, 10.1088/1757-899X/1193/1/012109


Abstract

The increasing automation level of processes in production systems leads to new technical challenges, especially in the implementation and maintenance of software architectures. New requirements arise regarding the interface between Programmable Logic Controllers (PLC), robots, Human Machine Interfaces (HMI) and superordinate information systems (e.g. ERP). Industry 4.0 demands, among other things, an increase in flexibility, adaptability and transparency to achieve vertical and horizontal interoperability and a continuous integration. The innovative automation middleware is capable of replacing the heterogeneous interface landscape, which currently exists in many companies and institutions. The basic idea is the implementation of a modular and standardized middleware. Due to relevant characteristics, such as dataflow orientation and graphical programming interface, using LabVIEW as a programming language turned out to be the most suitable solution. The system deploys OPC Unified Architecture (OPC UA) to connect all required components across multiple enterprise levels. Moreover, the software solution controls the workflow and collects process data for further analysis. In contrast to software products available on the market, which usually come along with manufacturer dependencies, the established middleware based on the combination LabVIEW and OPC UA is transparent, extensible and independent.



[ 20 ]
Baranowski, M.; Schlotthauer, T.; Netzer, M.; Gönnheimer, P.; Coutandin, S.; Fleischer, J. & Middendorf, P. (2021), "Hybridization of Fused Filament Fabrication Components by Stereolithographic Manufactured Thermoset Inserts" in Recent Advances in Manufacturing Engineering and Processes, eds. Ramesh K. Agarwal, Springer, pp. 03-14. ISBN/ISSN: 978-981-16-3933-3


Abstract

The abstract is published online only. If you did not include a short abstract for the online version when you submitted the manuscript, the first paragraph or the first 10 lines of the chapter will be displayed here. If possible, please provide us with an informative abstract. One of the main advantages of additive manufacturing by fused filament fabrication is its wide variety of materials and cost-effective production systems. However, the resolution and tightness of the produced structures are limited. The following article describes a novel approach of the functional integration of stereolithographic produced subcomponents into the fused filament fabrication process and the challenges during integration in terms of adhesion, taking into account different surface pre-treatments. With the help of these investigations, it is aimed to extend the field of application of additive manufactured plastic components.



[ 21 ]
Gönnheimer, P.; Karle, A.; Mohr, L. & Fleischer, J. (2021), "Comprehensive Machine Data Acquisition through Intelligent Parameter Identification and Assignment". Procedia CIRP, Elsevier, pp. 720-725. 10.1016/j.procir.2021.11.121


Abstract

In today's highly competitive manufacturing environment, process data monitoring continues to be of high priority, but often relies on modern communication interfaces being provided by PLC manufacturers. This paper proposes an alternative approach in which data is acquired automatically from various PLC models through available interfaces. Multiple Machine Learning algorithms are incorporated to identify machine parameters, which are then assigned to appropriate machine information models. All functionalities can be provided by a dedicated hardware module or as software modules on IPCs. The proposed approach can be integrated into existing Industry 4.0 efforts to accelerate digitalization in challenging environments.



[ 22 ]
Mühlbeier, E.; Oexle, F.; Gönnheimer, P. & Fleischer, J. (2021), "Wertstromkinematik – Produktionssysteme neu gedacht", Zeitschrift für wirtschaftlichen Fabrikbetrieb (ZWF), vol. 116, no. 11, pp. 847-851. 10.1515/zwf-2021-0179


Abstract

Industrie 4.0 ist als Trend des letzten Jahrzehnts inzwischen weltweit bekannt und steht wie kein anderer Begriff für die Innovationsfähigkeit und Kreativität von Forschung und Industrie. Dabei stellt Industrie 4.0 bisher jedoch eine im Wesentlichen digitale Innovation dar. Seitens der Hardware müssen für eine volle Ausschöpfung des Potentials die Produktionsmaschinen und -systeme der Zukunft grundlegend neu gedacht werden. Das Forschungsvorhaben Wertstromkinematik setzt an dieser Stelle an. Das neuartige Produktionskonzept sieht die Gestaltung ganzer Produktionen anhand der Verkettung mehrerer Maschinen einer baugleichen, roboterähnlichen Kinematik vor. Das hierdurch geschaffene Produktionssystem besitzt eine Wandlungsfähigkeit, die die volle Ausschöpfung des Potenzials durch Industrie 4.0 ermöglicht und zur Erhaltung und Anpassung globaler Wertschöpfungsketten beiträgt.



[ 23 ]
Gönnheimer, P.; Ehrmann, C.; Wu, Y.; Kimmig, A. & Fleischer, J. (2021), "Konzeption und Entwicklung eines Produktionsanlagenkonfigurators im Rahmen einer deutsch-chinesischen Industrie 4.0 Fabrikautomatisierungsplattform", Zeitschrift für wirtschaftlichen Fabrikbetrieb (ZWF), vol. 116, no. 11, pp. 836-840. 10.1515/zwf-2021-0193


Abstract

Kürzere Produktlebenszyklen und der fortschreitende Trend zur Individualisierung von Produktionsgütern mit immer kleineren Losgrößen führen zu der Notwendigkeit eines wiederkehrenden Prozesses, der die Auswahl und Konfiguration von Produktionssystemen beinhaltet. Produktionssysteme werden dabei auf Basis der Produktanforderungen aus einer großen Zahl komplexer Einzelmaschinen und Komponenten zusammengestellt, was zu einem hohen Integrationsaufwand führt. In diesem Beitrag wird daher ein Ansatz zur nutzerindividuellen, modellbasierten Auswahl von Maschinen und Anlagen vorgestellt, der im Rahmen eines deutsch-chinesischen Industrie 4.0 Forschungsprojektes entwickelt wurde.



[ 24 ]
Albers, A.; Fleischer, J.; Gönnheimer, P.; Mühlbeier, E.; Schlagenhauf, T.; Wäschle, M.; Anderl, R.; Giese, T.; Wang, Y.; Aurich, J.; Glatt, M.; Litsche, S. & Steglich, S. (2021), " 5G in der Industrie. Wege in die Technologieführerschaft in Produktentwicklung und Produktion". Acatech, München, eds. Fleischer, J.; Albers, A.; Anderl, R. & Aurich, J., ISBN/ISSN: 2702-7627. 10.48669/aca_2021-2.

[ 25 ]
Mühlbeier, E.; Oexle, F.; Gerlitz, E.; Matkovic, N.; Gönnheimer, P. & Fleischer, J. (2022), "Conceptual control architecture for future highly flexible production systems". Procedia CIRP Volume 106, Elsevier, pp. 39-44. 10.1016/j.procir.2022.02.152.


Abstract

The trend towards more customized products with shorter product life cycles requires rethinking of current production systems. Due to the increasing demands for flexibility and adaptability, agile state of the art production systems come close to their limits. To improve adaptability to volatile markets, the fundamental concepts of production systems must be reviewed. With the novel production system Wertstromkinematik, the limits of flexibility and agility will be pushed further. By using several units of an identical universal robot kinematic with suitable end effectors, complete versatile value streams can be mapped. In this paper a conceptual control architecture for this novel production concept is presented and discussed in four different test environments. These examined environments comprise the core functions of the new production concept coupling of robot kinematics and machine self-optimization as well as two use cases involving the use of digital CAD-CAM-chains will be discussed in detail. Based on these topics possible restrictions and solutions regarding the overall communication architecture will be presented and discussed.



[ 26 ]
Armbruster, J.; Gönnheimer, P. & Netzer, M. (2022), "Keine Angst vor Künstlicher Intelligenz in der Produktion".


Abstract

Mit Industrie 4.0 und schließlich Künstlicher Intelligenz sollten sich alle beschäftigen, um den Anschluss nicht zu verpassen. Wie der Status ist und wie man es richtig macht, erklären drei Experten.



[ 27 ]
Gönnheimer, P.; Netzer, M.; Lange, C.; Dörflinger, R.; Armbruster, J. & Fleischer, J. (2022), "Datenaufnahme und -verarbeitung in der Brownfield-Produktion", Zeitschrift für wirtschaftlichen Fabrikbetrieb (ZWF), vol. 117, no. 5, pp. 317-320. 10.1515/zwf-2022-1062


Abstract

Nach zehn Jahren Industrie 4.0 ist ein deutliches Potential für Unternehmen zu verzeichnen, nicht zuletzt durch eine steigende Anzahl gewinnbringender Use Cases. Gerade in Brownfield-Produktionen scheitern die Initiativen meist an technischen Voraussetzungen der Datenaufnahme. Der Status quo wurde im Rahmen einer Umfrage zum grundsätzlichen Stellenwert, der Kundennachfrage, der Nutzung und den jeweiligen Mehrwerten evaluiert. Hierbei wurden auch die damit einhergehenden Hemmnisse und Hürden bei der Digitalisierung der Produktion betrachtet. Der vorliegende Beitrag beschreibt zudem eine neuartige Möglichkeit, Daten aus Brownfield-Produktionsmaschinen intelligent zu extrahieren.